Webcam in Maranza and in the ski & holiday area Gitschberg Jochtal
Would you like to learn more about the ski & holiday area Gitschberg Jochtal? Start with a look through our webcam in Maranza and the surrounding area
View from the terrace of the hotel Holzerhof
Ski lift directly in front of the hotel with
connection to all slopes SKI IN / SKI OUT
View on the slopes of the ski and holiday area Gitschberg Jochtal
View from the top station of the Stoanamandl peak
Weather
Today: Still a bit changeable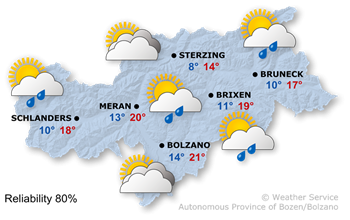 Mostly cloudy with only some sunny spells. During the day local rain showers are possible. In the northern valleys windy. Maximum values between 13° and 21°.
---
Pretty sunny and warmer
On Sunday sunny weather with some residual clouds in the northern regions during the morning. In the northern regions windy. Monday very sunny. In the morning low temperatures, in the afternoon warm. Sunny weather is expected also for Tuesday. Wednesday again very sunny.