Webcam in Maranza and in the ski & holiday area Gitschberg Jochtal
Would you like to learn more about the ski & holiday area Gitschberg Jochtal? Start with a look through our webcam in Maranza and the surrounding area
View from the terrace of the hotel Holzerhof
Ski lift directly in front of the hotel with
connection to all slopes SKI IN / SKI OUT
View on the slopes of the ski and holiday area Gitschberg Jochtal
View from the top station of the Stoanamandl peak
Weather
Today: Many clouds with showers in the evening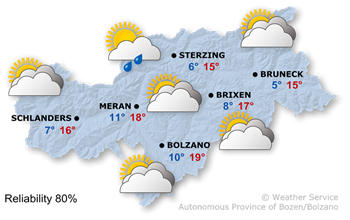 Generally cloudy skies with some sunny spells. Showers and isolated thunderstorms can be possible in the evening and during the following night. Top temperatures between 15° and 19°.
---
Tomorrow: Pretty sunny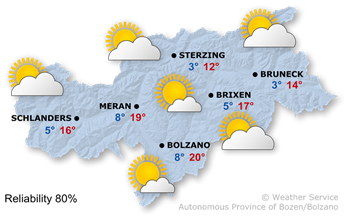 Residual showers on the eastern part in the morning. Otherwise pretty sunny. Windy in the Vinschgau. Top temperatures between 12° and 20°.
---
Colder from Monday
On Saturday residual showers in the morning, the pretty sunny weather. On Sunday, it will probably be changeable with many clouds and some showers are expected during the evening. On Monday temperatures will drop considerably. On the main ridge of the Alps it will remain changeable, towards the south it will be quite sunny. Strong north wind in many valleys. Pretty sunny weather on Tuesday, but windy and cold.